Beef Rouladen
by Noreen
(Canada)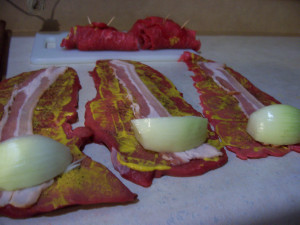 readytoroll
Beef Rouladen


Ingredients:


6 slices top round (inside round) (cut as thin as possible )
6 slices lean bacon
1 medium onion, cut into 6 sections
2 tbsp. olive oil
mustard, garlic powder, pepper,
2 tbsp (30 ml) corn starch
1 cup milk
2 cups water
6 dashes Maggi (a favorite German seasoning)


Method:

Pre-heat oven to 350F (176 C).

Lay out each strip of beef on a clean cutting board, or counter top, with the wide end facing you.

Thinly spread mustard on top of each slice.

Season each slice by sprinkling with garlic powder and freshly ground pepper

Lay a strip of bacon down the center of each slice of meat.

Place one onion section at the wide end.

Roll up the slices, beginning with the onion, tucking the ends in and securing with tooth picks (usually 3 per rouladen), or tie with kitchen thread.

Heat the oil in a medium sized roast pan. Brown the rouladen on all sides. Do not crowd them or they will not brown nicely.

Once all rouladen are well browned, add the water.

Bake in a 350 F (176 C) oven, covered, for 45 minutes, turning over once, about midway through.

Remove rouladen to a plate and cover to keep warm.

To thicken gravy, place roast pan on stove top over medium heat - combine the corn starch with the milk (I mix this in a small mason jar and just shake to blend) and stir this gently into the cooking liquid until it is thickened to your preference.

Season gravy to taste with salt, freshly ground pepper and Maggi.

Remove the tooth picks, or thread and serve with the gravy.


Yield: Serves 6 if rouladen are large

Note:


If you cannot get thin enough strips or if they are cut unevenly, gently pound the meat thinner or into more even strips.

These beef rouladen are delicious served with mashed potatoes and fresh green beans, with cucumber salad along side.

Join in and write your own page! It's easy to do. How? Simply click here to return to Beef Steak.