Chipotle Pork Tenderloin Recipe
Chipotle Pork Tenderloin Recipe
This pork tenderloin rub has a nice bite but is not overpowering hot with just the right amount of sweetness.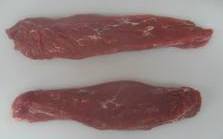 INGRIDIENTS
4 tablespoons brown sugar
3 tablespoons chipotle chili powder
1 teaspoon salt
1 teaspoon onion powder
1 teaspoon garlic powder
2 pork tenderloin
This is an optional step, because pork tenderloin can be dry if overcooked brining them first in a salt and sugar water solution will produce a tasty, moist tenderloin. If the pork you have purchased is enhanced or seasoned do not use a brine solution or add any salt to the recipe.
Dissolve about ¾ cup of kosher salt or 4-6 tablespoons of table salt and 4-6 tablespoons of sugar in 2-3 quarts (2-3 liters) of hot tap water in a large resealable bag or plastic container. Let the tenderloin sit in the refrigerator for 1-2 hours in the brine solution, turning the bag or tenderloin once. The longer the tenderloin sits in the brine the mushier it will become, so no more than 2 hours.
Remove the tenderloin from the brine and pat dry with paper towel and continue to step 1.
Cooking Instructions
Chipotle Pork Tenderloin

The instructions for this pork tenderloin recipe are for oven roasting, however this recipe can also be done on the grill. How To Grill Pork Tenderloin.
1. In a bowl mix the chipotle chili powder, onion powder, garlic powder, salt and brown sugar.
2. Sprinkle the chipotle mix heavily onto meat and massage directly into the meat. Place meat in a large resealable food bag and store in refrigerator 1-4 hours.
3. Pre-heat oven to 425 degrees. Cook pork tenderloin 20-30 minutes until the center reaches 145-150 degrees on a instant-read thermometer.
4. Tent with foil 10-15 minutes, temperature should rise another 5-10 degrees. Thinly slice across the grain and serve with rice or vegetables.
Below is a cooking chart for pork roast. Remember you should always use an instant-read thermometer to check the doneness of a roast. The internal temperature will rise about 5-10 degrees during resting time, remove the roast 5-10 degrees before desired doneness.
| | | |
| --- | --- | --- |
| Doneness | Description | Meat Thermometer Reading |
| Medium | Pink throughout | 145-150 degrees |
| Medium-Well | Slightly pink in center | 150-160 degrees |
| Well-Done | Beige-pink throughout | 160-170 degrees |
It is not recommended pork be cooked less than medium doneness.
Check Out These Other Baked Pork Tenderloin Recipes
&nbsp
---
Go To Home Page

Click Here For Pork Roast

Click Here For Roasting Pork Tenderloin

Click Here For Grilling Pork Tenderloin

Return To Top