Crock Pot Rib Recipe
Korean Style Short Ribs
This crock pot rib recipe Korean style, using short ribs is the perfect partner for the slow cooker. Slow cooker short ribs are fatty but very succulent. Not to be mistaken with beef back ribs, which come from the prime rib section. Beef back ribs are best suited to a dry heat cooking method, although beef back ribs can be cooked in a slow cooker.

Short ribs are cut from the chuck/shoulder section, they have great flavor. Cuts from the chuck benefit from being slow cooked in a liquid at low heat.
Many Korean beef short rib crockpot recipes use short ribs cut about 1/4 inch in thickness, crockpot ribs cut thin will turn out excellent, but we like to use short ribs cut about 1 inch thick with at least 1 inch of meat above the bone. These thick cut short ribs will be falling off the bones, braised in a full flavored Korean sauce.
We recommend searing or browning the short ribs before adding to the slow cooker. A caramelization will develop on the outside of the short ribs which helps to give the ribs a depth of flavor. 
SLOW COOKER TOP SELLERS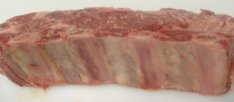 Serves 3-4 People
Cooking Time 9-11 hours on low or 5-7 hours on high
Ingredients
4-5lb bone in short ribs
4-6 garlic cloves, minced
2-3 green onions, chopped
1 tablespoon fresh ginger, minced
1 pear, peeled, cored, minced
1 tablespoon rice vinegar
1/4 cup soy sauce
1 cup chicken broth
1 tablespoon vegetable oil
salt and pepper
Cooking Instructions
Crock Pot Rib Recipe
1. Season short ribs with salt and pepper. Heat 1 tablespoon of oil on medium-high in a heavy skillet about 3-4 minutes until hot. Add short ribs and sear each side about 2 minutes per side until well browned.
2. Add to slow cooker garlic, green onions, rice vinegar, ginger, pear, soy sauce, and chicken broth, stirring the mixture. Place short ribs into slow cooker, cover and cook 9-11 hours on low or 5-7 hours on high.
3. Remove short ribs and transfer to a plate, tent loosely with foil 5-10 minutes. Let liquid in the slow cooker settle 5-10 minutes, remove fat from surface with a large spoon. Season sauce with salt and pepper and serve the sauce over the short ribs.
Go To Slow Cookers Recipes (Beef)